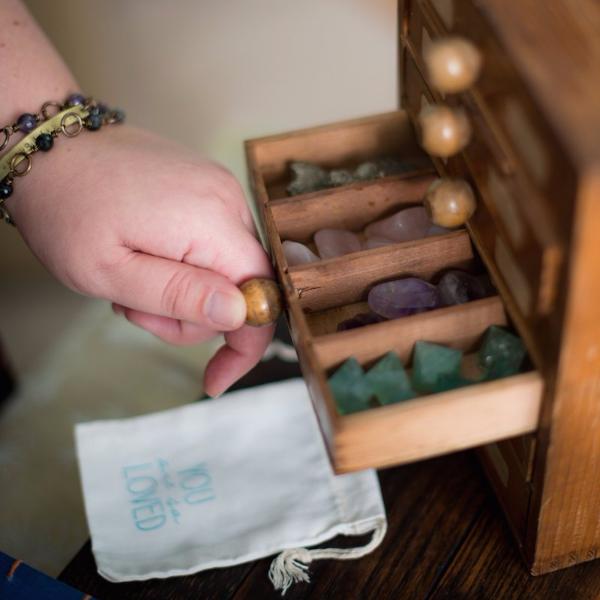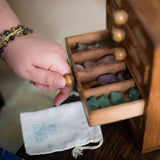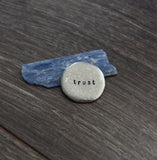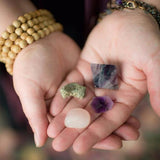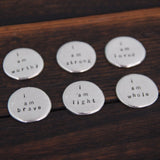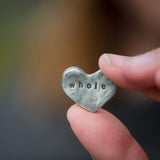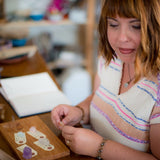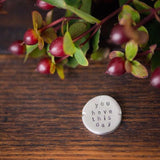 one stone. one mantra. :: a soul mantra pairing
$28.00
The Story
This offering is an invitation to step into the magical dance of letting me choose a mantra and intention just for you in the form of a talisman and a gemstone. These pieces will become a mantra and intention for you to hold close, to slip into your pocket or onto your altar, and to use in your daily life.
I love creating these little bundles just for you. 
When you're ready to place your order, you can share a few words about where you are on your path. I will hold you and your words close as I sit in meditation, and then I will then choose a mantra and a gemstone just for you. A talisman will then be created with that mantra. If you'd like me to choose just one word instead of a phrase, please just let me know. 
Before sending them to your corner of the world, I will bless your talisman and gemstone in a sacred ceremony and package them with love and blessings. You will also receive a note about your mantra and an intention card with information about your stone.
Choosing a word/intention for the year? Every year, customers return to have me choose an intention for them to focus on for the year. This offering can be a word that I choose for you, in place of a word (so you would want an intention soul mantra phrase instead), or another companion for you as you move through the year. If you're ordering this as a mantra/intention of the year focus, please let me know. Also, if you have already worked with a word/mantra/intention of the year practice and want me to know your previous intentions so that I don't choose one you've worked with before, please do that as well.
Additional Details
Your mantra will be hand stamped on one of our pewter talismans. I will choose the mantra (it might be a short phrase or one word) and the shape of the talisman. You will also receive a gemstone that compliments your mantra. They will be packaged together in a sweet little cloth bag that you can keep them in.
Turnaround & Shipping: Customized items usually ship within 7-14 business days of order placement unless ordered with another item with a longer turnaround time. I ship via USPS, and due to challenges the postal service is experiencing, packages are taking longer than usual. Your order will be packaged with love and care. All packages ship with tracking.
International customers: Before you place your order, be sure to read our shipping policies, especially if this is the first time you've ordered from a small business in the US.