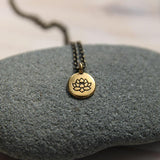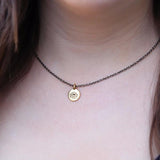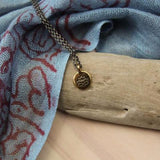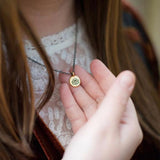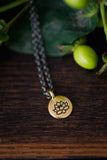 no mud. no lotus. :: necklace
$20.00
The Story
One of my favorite sayings is: No mud, no lotus. My hope is that this necklace reminds you that the tough stuff in your life becomes compost for all the goodness that blooms within.
This necklace includes a pendant with a lotus flower etched onto it. The lotus flower grows in water with its roots in the mud below, and its bloom appear a few centimeters above the water. Lotus plants can live over 1000 years, and they have spiritual significance in several spiritual traditions.
Details
The pendant is gold-plated and about 1/2" in size. The chain is antique brass and nickel-free. Before you add to your cart, just choose a chain length in the drop-down menu. Bonnie is wearing the chain at 16" in the second photo and 18 inches in the fifth.
Turnaround: This item usually ships within 3-5 business days of order placement unless ordered with another item with a longer turnaround time.
International customers: Before you place your order, be sure to read our shipping policies, especially if this is the first time you've ordered from a small business in the US.