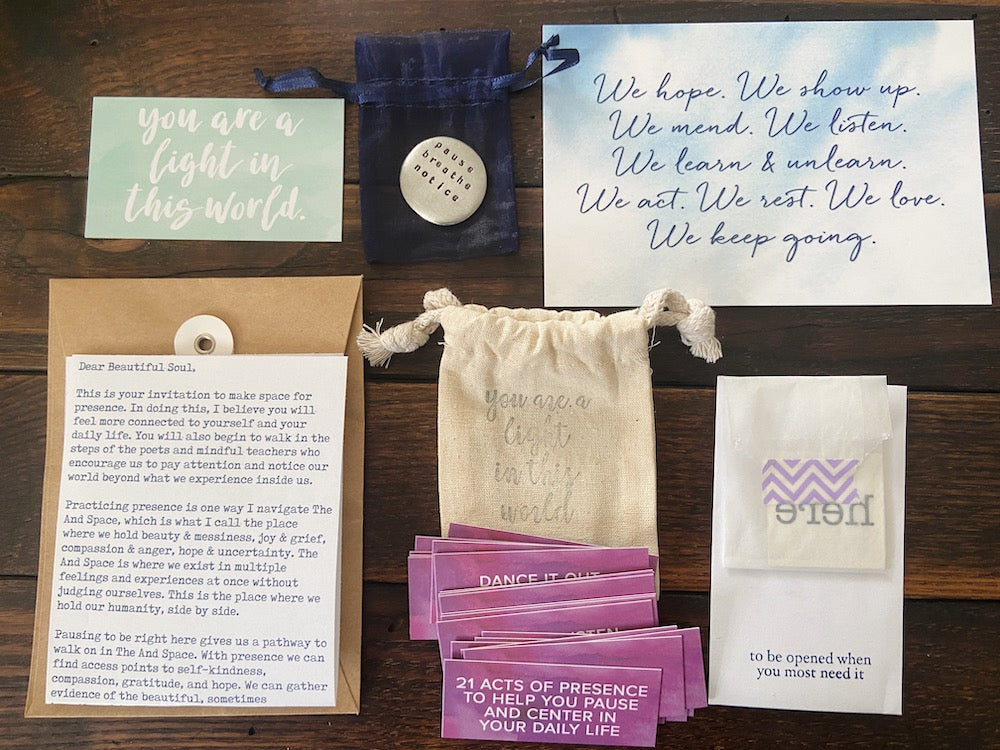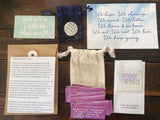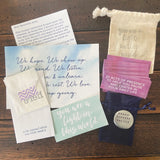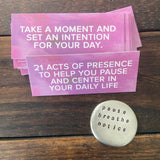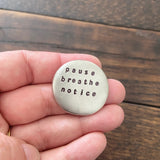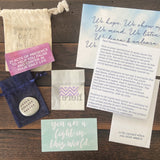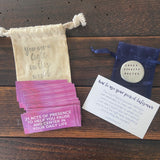 Pause & Notice Care Package
$28.00
This is your invitation to make space for presence. In doing this, I believe you will feel more connected to yourself and your daily life. You will also begin to walk in the steps of the poets and mindful teachers who encourage us to pay attention and notice our world beyond what we experience inside us.
The Pause & Notice care package is an invitation to pause, take a deep breath, and notice the world within and around you. It includes:

The

"

21 Acts of Presence

"

mini card deck. These cards provides you with 21 simple exercises to help you practice being present. (This deck was part of the 2018 Talisman of the Month Club and this is the first time it's been available outside the subscription box.)
A pocket talisman. Hand stamped with the words - pause breathe notice - you can slip the pewter talisman into your pocket, put it on your night stand, or even keep on your desk at work. The talisman comes with a card explaining how to use it.
A "to be opened when you most need it" card. This is a special little note tucked inside an envelope to be opened at some point in the future when you're having a tough day.
A temporary tattoo: Your tattoo (pictured backward in the photos but it will be the correct way when you put it on) will read either "here" or "trust." These are from the Soul Mantras archives and I'm so excited that I found a few more.
A letter. This letter includes notes about what is inside the care package along with some words to help you begin your presence practice.

A handwritten note. On the back of one of my Soul Mantras prints (an example is shown in the photos), I will write you a handwritten blessing. 

Save when you buy 2! If you'd like to gift one to a friend and keep one, or have a few people in your life who might enjoy receiving this care package, you save when you choose 2 from the drop-down menu under options. 
Imagine: The anticipation of receiving a care package full of goodies just for you. When it arrives, you set aside time to open it so you can savor everything. As you carefully unwrap each piece of Soul Mantras goodness, you realize you can feel the love, the joy, the support of having each item chosen just for you. You then take time to put each piece in special spots in your home where you will be reminded that you are a light in the world, that you are enough, that you are not alone. This is the experience you or a loved one will have when receiving this care package.
Perfect for someone in your life who needs a reminder that they aren't alone right now, that you're thinking about them, and that you see them showing up every day. Just let me know what gift note you'd like me to include.
And if this care package is for you, I'll include a note of encouragement written just for you. Leave me a note on the checkout page to let me know what you need and I'll write one for you. 
I have about 25 of these available.
Turnaround: Due to the personal attention and customization given to this offering, it usually ships in 4-7 business days.
International customers: Before you place your order, be sure to read our shipping policies, especially if this is the first time you've ordered from a small business in the US. Just get in touch if you have questions.